Ona All Weather Storm Blue (Pair) Glove
.
All Weather Storm Blue
The most advanced rain polo gloves ever made; engineered with StormSuede™ creating an unparalleled grip, fit and feel. The #1 polo rain gloves are essential equipment for rain-ready play.


ALL WEATHER STORM has been engineered with exceptional materials to offer you the best grip under very wet conditions. Designed using 3-D patterning to accurately follow the natural lines of the hand and constructed in our unique StormSuede™ material, these high performing-gloves repeal water and offer an excellent grip.
SIZING: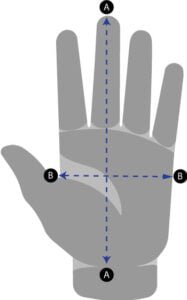 | | | | | | |
| --- | --- | --- | --- | --- | --- |
| | X-Small | Small | Medium | Large | X-Large |
| A (in) | 6.9 | 7.2 | 7.4 | 7.6 | 7.9 |
| B (in) | 3.6 | 3.8 | 3.9 | 4.1 | 4.3 |
dwdw
dwdwwdqd