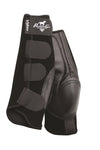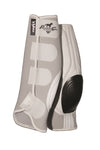 Ventech Slide-Tec Skid Boots
Sale price
$106.99
Regular price
Equiped with VenTECH technology, Slide-Tec Skid boots extend lower to cover the pastern and bulb of the horses heel keeping dirt from penetrating the boot and causing burns during sliding stops or tight turns.
Ventilated neoprene conforms to your horse, allows heat and moisture to escape, and keeps your horse cool, comfortable and performing at its best. Strong but flexible, ensuring optimum protection of the fetlock and surrounding area.
A padded leather patch on the inside of the fetlock and cannon bone to protect from interference. Recessed threads on skid cup wont wear out or be cut when sliding. Radius-cut straps are easier to grip and apply and have a finished appearance. Hook fasteners adjust to fit almost any horse.